NOTE: if people don't want to be listed in this web site please advise IPP KRAV MAGA INTERNATIONAL ASS. sending an e-mail to info@forsvaritalia.it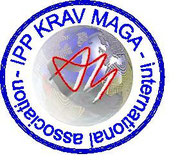 IMPORTANT MESSAGE
Some of the instructors listed below after getting the certificates in IPPKM decided to found their own association/school/federation creating their own system of self defense or their own style of krav maga.
IPPKM INTERNATIONAL ASS.is based on a solid principle of democracy and respect for everybody interested in self defense and martial arts, according to this principle we respect these instructors and mantein their names in the list.
We invite people if interested in learning IPPKRAVMAGA official program to contact directly master Alberto Merlo to have all info needed to start the personal journey in the IPPKM world.
IPP Krav Maga Instructors
ALBERTO MERLO                      CHIEF MASTER                    ITALY 
PIERANGELO MERLO                    SENIOR INSTRUCTOR            ITALY - MI
MOSE' SIDDI                                INSTRUCTOR                       ITALY - MI
PAOLO ABATE                               INSTRUCTOR                      ITALY -MI
DANIELE PALOMBO                       INSTRUCTOR                      ITALY - MB
ANTONIO FALLARINO                    INSTRCUTOR                      ITALY  - MB
GIONATA COHN                            INSTRCUTOR                      ITALY  -VB
ETTORE DI STASIO                       INSTRUCTOR                     ITALY - MB
TIZIANO TROPENSCOVINO            INSTRUCTOR                      ITALY - LC
SILVIA TANTARDINI                      INSTRUCTOR                      ITALY - LC
CHIARA TANTARDINI                     INSTRUCTOR                      ITALY - LC
COSTANTINO CASULA                   INSTRUCTOR                      ITALY - MI
FORGES SCAURI                          INSTRUCTOR                      ITALY - MI
IVAN SCAURI                              INSTRUCTOR                       ITALY- MI    
RACHELE NICOLO'                         INSTRUCTOR                      ITALY - MI 
ERIKA TASCA                               INSTRUCTOR                      ITALY - MI
ELVEZIO  PIANTANIDA                  INSTRUCTOR                      ITALY - VA
LOTTI MAURO                               INSTRUCTOR                      ITALY - MI
YURI MASSA                                 INSTRUCTOR                      ITALY - MI
LORENZO ZANZOTTERA                 INSTRUCTOR                      ITALY - MI
PIERGIORGIO KARAYAN                INSTRUCTOR                      ITALY - VA
SOATIN DELFINO                          INSTRUCTOR                      ITALY - RO
LUCIANO MARELLA                        INSTRUCTOR                     ITALY - CO
MASSIMO SIMONCELLI                   INSTRUCTOR                     ITALY - BS
ALESSANDRO MASSARO                INSTRUCTOR                     ITALY - BS
VINCENZO SERRA                         INSTRUCTOR                     ITALY - AG
SERGIO ORSINI                            INSTRUCTOR                     ITALY - SR 
OSCAR POLEGGI                           INSTRUCTOR                     ITALY - SR 
GABRIELE COMOLI                        INSTRUCTOR                     ITALY - VB
GABRIELE MAGNONI                      APP INSTRUCTOR               ITALY - VB
STEFANO PAONE                           INSTRUCTOR                      ITALY - BZ
DAVIDE PAVESI                            INSTRUCTOR                      ITALY - BG
CARMINE BRUNO                          INSTRUCTOR                      ITALY - BS
RICCARDO GUIDOLIN                   INSTRUCTOR                      ITALY - CO
PIER FRANCO ZERBINI                  INSTRUCTOR                     ITALY - TO
ALDO SANTI                                 INSTRUCTOR                     ITALY - CR
REMO SANTI                                 INSTRUCTOR                     ITALY - CR
SIMONLUCA POLIMENI                   INSTRCUTOR                     ITALY - PC
SASA VULKEVIC                           INSTRUCTOR                     ITALY - PC
LUCA ROTTA                                 INSTRUCTOR                     ITALY - GE
TIZIANO GARBINI                        INSTRUCTOR                      ITALY - SP
MATTEO OSNAGHI                        INSTRUCTOR                      ITALY - MI
VINCENZO LABRIOLA                    INSTRUCTOR                      ITALY - MI
DI PIETRO ALESSIO                      INSTRUCTOR                      ITALY - MI
RICCARDO D'ANGELO                   INSTRUCTOR                      ITALY - MI
ZANE CHURCH                             MASTER                                USA
GIL BACA                              MASTER  INSTRUCTOR                USA
NICHOLAS CARD                            INSTRUCTOR                       USA
TOBY VANCE                                 INSTRUCTOR                        USA
SCOTT MITCHELL                          INSTRUCTOR                        USA
TOM ZABICKI                                INSTRUCTOR                        USA
DAVID QUINTANA                          INSTRUCTOR                        USA
DAMIAN PASCETTI                        INSTRUCTOR                        USA
JEFF CHILDS                                 INSTRUCTOR                        USA
TONY MCKENZIE                           INSTRUCTOR                        USA
MICHELLE LUCERO                       INSTRUCTOR                        USA
RYAN WILKIRSON                         INSTRUCTOR                        USA
ADRIAN RUBIO                             INSTRUCTOR                        USA
KELLY DICKINSON                        INSTRUCTOR                        USA
PEDRO ESTEVAN                           INSTRUCTOR                        USA
SCOTT DEL PRETE                         INSTRUCTOR                        USA
ANITA DEL PRETE                         INSTRUCTOR                        USA
ANDRES LUCERO                          INSTRUCTOR                        USA
ELISE LOWE                                 INSTRUCTOR                        USA
ELI RODRIGUEZ                            INSTRUCTOR                        USA
JOHN COZATT                               INSTRUCTOR                        USA
JEREMY ADAMS                            INSTRUCTOR                        USA
HOWARD GRIFFITH                      INSTRUCTOR                        USA
JEFF BROWN                               INSTRUCTOR                        USA
TONY DELEON                             INSTRUCTOR                        USA
GEOFF PENNINGTON                    INSTRUCTOR                       USA
Myc Fromm                                  ASSOCIATE                          USA
Randy Miller                                 ASSOCIATE                          USA
James Daugherty                         ASSOCIATE                           USA
Celeste Hull                                 ASSOCIATE                           USA
Dustin Schooley                            ASSOCIATE                          USA
Daniel Waterman                          ASSOCIATE                          USA
Dave Schill                                   ASSOCIATE                          USA
Louie Duran                                  ASSOCIATE                          USA
Tim Williams                                 ASSOCIATE                          USA
RAYMOND LUYK                            INSTRUCTOR                       USA
MIKE FRAZIER                              INSTRUCTOR                       USA
SHAWN MATHES                           INSTRUCTOR                      USA
TROY MUNSON                            INSTRUCTOR                        USA 
RICHARD ROWLAND                    INSTRUCTOR                         USA
VIRGIL WEISMANTLE                   INSTRUCTOR                         USA
LAWRENCE SPINKS                     INSTRUCTOR                          USA
QUOC L. TRAN                            INSTRUCTOR                          USA
JOHN C. ENGER                          INSTRUCTOR                          USA
DWAYNE JACKSON                      INSTRUCTOR                         USA
JAY JENKINS                               INSTRUCTOR                         USA
ALEX DAHLGREN                         INSTRUCTOR                         USA
JIM MAHAN                                 INSTRUCTOR                         USA
LAZARO BUENO                           INSTRUCTOR                        USA
AARON WEINER                           INSTRUCTOR                        USA
MIKE OMERBEGOVICH                 INSTRUCTOR                         USA
LAWRENCE VALADEZ                   INSTRUCTOR                        USA
SAM ALBRIGHT                           INSTRUCTOR                         USA
Christopher Oscar Valdez             INSTRUCTOR                         USA
Raphael Anlam Chiu                    INSTRUCTOR                          USA
Phyllis Irene Church.                   INSTRUCTOR                         USA
Erik Wemlinger                           INSTRUCTOR                         USA
Joshua Wemlinger                       INSTRUCTOR                         USA
ANTHONY SOUTHARD                  INSTRUCTOR                         USA
DARRELL SMITH                          ASSOCIATE                            USA
MIKE FRAZIER                             ASSOCIATE                           USA
BOB YODER                                ASSOCIATE                            USA
FERNAN VARGAS                         ASSOCIATE                            USA
JESUS RICO URESTI                     INSTRUCTOR                       MEXICO
FELIX ALBERTO PEGUEROS HERRERA INSTRUCTOR                  MEXICO
FRANCISCO RENE RESENDIZ            INSTRUCTOR                  MEXICO
ANGEL VALERI CHAVEZ                    INSTRUCTOR                  MEXICO
SAUL VELAZQUEZ PAREDES              INSTRUCTOR                  MEXICO
JOSE ALFREDO CESAR GOMEZ       INSTRUCTOR                      MEXICO
ANTONIO LARA POZOS                 INSTRUCTOR                       MEXICO
BARUK ZUNIGA MURILLO                  INSTRUCTOR                  MEXICO
MARIA SACRAMENTO NAVARRO          INSTRUCTOR                  MEXICO
CHRISTIAN ADONAY TAPIA GARCIA  INSTRUCTOR                  MEXICO
PEDRO COTA                                     INSTRUCTOR                  MEXICO
JESUS LUGO                               INSTRUCTOR                     MEXICO
URIEL MURILLO FLORES                   INSTRUCTOR                     MEXICO
PEDRO DELGADO CONCHAS             INSTRUCTOR                     MEXICO
CARLOS ADRIAN DURAN TAMAYO     INSTRUCTOR                     MEXICO
CARLOS ELIZONDO CASTRO            INSTRUCTOR                     MEXICO
L. FERNANDO MOREIRA            MASTER                             PORTUGAL
ELISIARIO COSTA                        INSTRUCTOR                     PORTUGAL 
PEDRO MOUZINHO                     INSTRUCTOR                     PORTUGAL 
JOSE' RIBEIRO                           INSTRUCTOR                     PORTUGAL 
ANTONIO QUEIMADAS                INSTRUCTOR                     PORTUGAL 
MIGUEL REIS                              INSTRUCTOR                    PORTUGAL 
NUNO PAULO                              INSTRUCTOR                    PORTUGAL 
CARLOS GUERRA                        INSTRUCTOR                      PORTUGAL 
NUNO NUNES                             INSTRUCTOR                     PORTUGAL 
ISTVAN HARGITAI                      INSTRUCTOR                      PORTUGAL 
BRUNO LIMA                              INSTRUCTOR                       PORTUGAL
DANIEL LOPES                            INSTRUCTOR                     PORTUGAL 
FERNANDO BRITO                       INSTRUCTOR                     PORTUGAL 
JOAO MANUEL ABREU                 INSTRUCTOR                     PORTUGAL
PAULO FERREIRA                        INSTRUCTOR                     PORTUGAL
AHMED ABDALLA                        INSTRUCTOR                     PORTUGAL
NAJI M.S. ALMESMARI                INSTRUCTOR                     PORTUGAL
BRUNO TELLER                         INSTRUCTOR                     PORTUGAL
BRUNO TALLHADAS                   INSTRUCTOR                     PORTUGAL
PAULA OLIVEIRA                        INSTRUCTOR                     PORTUGAL
EMILIA MARIA PIMENTEL            INSTRUCTOR                     PORTUGAL 
GUSTAVO J. F. GUIMARAES        INSTRUCTOR                     PORTUGAL
JORGE VASCONCELOS E SA       INSTRUCTOR                     PORTUGAL
LAURENTINO DOS SANTOS S.    INSTRUCTOR                        PORTUGAL
HUGO M. ROSA DO NASCIMENTO INSTRUCTOR                     PORTUGAL
ANDREAS ALEMAN                       INSTRUCTOR                   NETHERLANDS
DENNIS J WOLF                          INSTRUCTOR                   NETHERLANDS
GEORGE HUTCHINGS                  INSTRUCTOR                        CANADA
DEAN ALYWARD                           ASSOCIATE                            CANADA
EPHRAIM PATEY                           ASSOCIATE                            CANADA
GUNTHER BENJAMINS                INSTRUCTOR                          GERMANY
MARC BENJAMINS                     INSTRUCTOR                         GERMANY
FRANK KLEMMER                        INSTRUCTOR                           GERMANY
BERND HOELE                           INSTRUCTOR                           GERMANY
JUERGEN KOEHLER                     INSTRUCTOR                          GERMANY
THORSTEN ISRINGHAUSEN         INSTRUCTOR                          GERMANY
VIDADI HAJYEV                         INSTRUCTOR                          GERMANY
LUC VAN LAERE                         INSTRUCTOR                          BELGIUM 
PATRICK  WITTEVRONGEL          ASSOCIATE                             BELGIUM
EMMANUEL VAN POUCKE             ASSOCIATE                            BELGIUM 
PAWEL HANDZLIK                      INSTRUCTOR                          POLAND
WIESLAW PIKOR                        INSTRUCTOR                           POLAND
PAWEL WINCZEWSKI                  INSTRUCTOR                           POLAND
JANUSZ HAREZLAK                     INSTRUCTOR                           POLAND
MATEUSZ HANDZLIK                   INSTRUCTOR                          POLAND
SYLWESTER POTOCZNY              INSTRUCTOR                           POLAND
LESZEK JANKOWIAK                   INSTRUCTOR                           POLAND
PIOTR LESKO                             INSTRUCTOR                           POLAND
PIOTR POKUSA                          INSTRUCTOR                           POLAND
ARKADIUSZ ZRALKA                  INSTRUCTOR                           POLAND
DOMINIC DILLON                        INSTRUCTOR                           UK
CRISTIAN VASQUEZ                   INSTRUCTOR                         CHILE
ITALO ALBORNOZ GUZMAN         ASSOCIATE                            CHILE
DIKAN MILOSAVLJEVIC              ASSOCIATE                            AUSTRIA
VICTOR W.HUAPAYA QUISPE       ASSOCIATE                            PERU'
LIM BENG KIT                            INSTRUCTOR                         SINGAPORE
STEPHAN BREU                         ASSOCIATE                         SWITZERLAND
GUSTAVO ALVAREZ PRIETO           INSTRUCTOR                      SPAIN
DAVID VALLEJO                            ASSOCIATE                          SPAIN
ALBERTO OLIVEIRA                       ASSOCIATE                          SPAIN
JOSE M. RODRIGUEZ ESPINOSA     ASSOCIATE                          SPAIN
LUIS MIGUEL SANCHEZ                  ASSOCIATE                         SPAIN
PHILIPPE BRIAND                         INSTRUCTOR                      FRANCE
PATRICE ELOPHE                          INSTRUCTOR                    FRANCE
WILLY GASQUE                            INSTRUCTOR                      FRANCE
CHRISTOPHE SALLES                    INSTRUCTOR                     FRANCE
BRUNASSE Guillaume                   INSTRUCTOR                      FRANCE
GUIOZ arnaud                             INSTRUCTOR                       FRANCE
COZZONNE Michel                       INSTRUCTOR                       FRANCE
BONAVIA Wilfried                        INSTRUCTOR                        FRANCE
WEN KPA Stéphane                     INSTRUCTOR                        FRANCE
MOREAU Alexandre                     INSTRUCTOR                        FRANCE
Jérôme LIDOYNE                         INSTRUCTOR                        FRANCE
Eric LUBRANO                             INSTRUCTOR                        FRANCE
JAMES DOUGLASS                         ASSOCIATE                       AUSTRALIA 
NIGEL MAY                                   INSTRUCTOR                     AUSTRALIA
CARLOS SILVA                             INSTRUCTOR                      URUGUAY
HUGO PEREYRA DA SILVA             ASSOCIATE                       ARGENTINA
JOHANN HAYWOOD                       INSTRUCTOR                SOUTH AFRICA
JACQUES BOSCH                        INSTRUCTOR                 SOUTH AFRICA
JOHANN HAYWOOD  (Jnr)              INSTRUCTOR                SOUTH AFRICA
DANIE DU PLESSIS                       INSTRUCTOR                 SOUTH AFRICA
MICHELLE WHITE                          INSTRUCTOR                 SOUTH AFRICA
MORTEN H. WANG                          INSTRUCTOR                   NORWAY 
MORTEN DE LANGE                         ASSOCIATE                      NORWAY 
EGIDIJUS STANKEVICIUS                INSTRUCTOR                 LITHUANIA
DARIUS NADZEIKA                          INSTRUCTOR                 LITHUANIA
DZIUGAS DUBAKA                          INSTRUCTOR                 LITHUANIA
PAULIUS PULIONIS                         INSTRUCTOR                 LITHUANIA
MARTIN DVORAK                            INSTRUCTOR            CZECH REPUBLIC
RIZWAN HUSSAIN                         ASSOCIATE                        PAKISTAN
BASHARAT ALI                              ASSOCIATE                        PAKISTAN
MEHDI JAVADI RANJBAR                ASSOCIATE                        IRAN
TARON ABRAHAMYAN                    ASSOCIATE                        ARMENIA
JAGDISH SINGH KHATRI                ASSOCIATE                        NEPAL
SPIRIDON NASIAKOS                    ASSOCIATE                        GREECE
JAIME ORTIZ                                INSTRUCTOR                 COSTA RICA
Brayan Rodriguez Delgado            INSTRUCTOR                 COSTA RICA
Marcial Sanchez Esquivel               INSTRUCTOR                COSTA RICA
BORYS BIDICHEV                         ASSOCIATE                       UKRAINE
ALEXANDER VAKHNIN                   ASSOCIATE                       RUSSIA
EVGENIY TKACHENKO                   ASSOCIATE                       RUSSIA
ENCMINGER GORAN                       ASSOCIATE                     SERBIA
KOUYATE Ousseynou                    ASSOCIATE                      SENEGAL 
KUBILAY  Akman                           INSTRUCTOR                    TURKEY 
JOAO BATISTA DE ANDRADE NETO    INSTRUCTOR                   BRAZIL
 JOERG STEFAN WITTKOWSKI           INSTRUCTOR                   BRAZIL
SERGIO MARTINS DOS SANTOS JR    INSTRUCTOR                   BRAZIL
RUBEN ARIEL MORENO                   ASSOCIATE               ARGENTINA 
HARVEY GEORGE CASSIDY             INSTRUCTOR               VENEZUELA